Osvojite PRO paket na Uskršnjem takmičenju!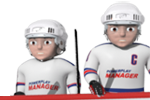 Zdravo drugovi,

ove godine, Uskrs na PowerPlay Menadžeru će biti zabavniji nego inače. U narednih 11 dana, pojavljivat se na stranicama igre po 3 nova Uskršnja jaja svakoga dana. Vaš zadatak je da pronađete sva uskršnja jaja i ako to uspijete, osvojićete besplatan PRO paket u trajanju od 7 dana počevši od 4. Aprila. Ukoliko igrate oba sporta, dobićete PRO paket u oba.

Ukoliko ne pronađete uskršnje jaje na dan kada se pojavi nemojte brinuti, ostaće tamo do kraja takmičenja 4. Aprila, ili dok ga ne pokupite. Zadnja 3 jaja će da se pojave na Uskršnji ponedjeljak. Kako bi sakupili jaje dovoljno je da kliknete na njega. Možete vidjeti broj jaja koja ste pokupili u specijalnoj poruci na vašem računu.

Jaja mogu biti sakrivena na bilo kojoj stranici na PPM-u. Ukoliko igrate samo jedan sport, ne brinite. Jaja koja se pojavljuju u hokeju, takođe se vide i u fudbalu na istoj stranici. Držite oči otvorene i zabavite se!

Novi sistem promocije i ispadanja

Imam još jedno važno sopštenje da objavim. Ključ promocije i ispadanja će biti promijenjen na kraju ove fudbalske sezone i sezone 14 u hokeju. Novi sistem će da izgleda ovako:

1. 20. u hokeju (22. u fudbalu) - ispada u broj lige jednak trenutnom broju (npr. II.1 u III.1)

2. 19. (21.) mjesto - trenutni broj lige + ukupan broj liga trenutnog nivoa (npr. II.1 u III.5)

3. 18. (20.) mjesto - trenutni broj lige + ukupan broj liga trenutnog nivoa * 2 (npr. II.1 u III.9)

4. 17. (19.) mjesto - trenutni broj lige + ukupan broj liga trenutnog nivoa * 3 (npr. II.1 u III.13)

5. isti ciklus za pozicije 16 do 13 u hokeju i 18 do 15 u fudbalu za određivanje protivnika u baražu

6. timovi koji su ispali iz lige biće zamijenjeni timovima iz liga u koje ispadaju

Novi sistem će osigurati da zone ispadanja u ligama Predposljednji po nivou budu poprilično slične a ne kao do sada da neke lige imaju 4 +4 zonu ispadanja dok ostale nemaju gdje da ispadnu.

Iako smo ovo mogli da uvedemo u hokej od ove sezone, odlučili smo ipak da to ne radimo u tako kratkom roku.

Sljedeći put vam otkrivam neke uzbudljive vijesti iz rukometa. Ostanite uz nas!
Autor:

vlady
-
Prevodilac:
Montenegra
Podeijeli na Facebook
Podeijeli na Twitter
Podeijeli na MySpace