Slike rukometa i regrupisanje liga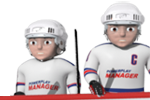 Zdravo drugari,
imamo jos neke slike iz rukometa za vas ove neđelje. Prošle neđelje to je bila stranica sa taktikom, ove neđelje vam predstavljamo stranicu sa postavom. Kao što sam pomenuo prošle neđelje, postava će vam otvoriti još neke taktičke mogućnosti. Bićete u mogućnosti da napravite 4 taktičke formacije za napad i 4 za odbranu. Za svaku od njih (osim za onu taktiku koja započinje meč) imaćete opciju da namjestite posebne uslove ukoliko želite da promjenite taktiku nekom drugom. Moći ćete da pošaljete različite igrače na parket ako gubite ili ako vodite. Takođe možete i da kombinujete u zavisnosti od minuta meča. Igrači mogu, naravno, da se pojavljuju u višestrukim taktičkim formacijama. Klikom na slike ispod možete da ih vidite u punoj veličini.
Pripremamo specijalnu opciju za rukomet koja vam omogućava da budete u istoj ligi kao i vaši prijatelji na početku konačne verzije rukometa. Mislim da ne moram da vam govorim koliko igranje protiv prijatelja u istoj ligi donosi uzbuđenja i akcije igri. Objavićemo detalje oko ovoga kasnije, budite spremni.
13. sezona u hokeju završava naredne neđelje. Odlučili smo se za regrupisanje liga kako bi eliminisali neaktivne timove u posljednja dva nivoa liga u sledećim zemljama:
Bosna i Hercegovina, Italija, Litvanija, Holandija, Norveška, Turska, Velika Britanija.
Sledeće sezone planiramo da uklonimo nerješene rezultate iz Lige šampiona i Kupa pobjednika kupova u hokeju kao i iz kreditnih turnira. Svaka utakmica će ići u produžetke a onda i u penale ukoliko je nerješen rezultat.
To je sve, uživajte u vikendu!
Autor:

vlady
-
Prevodilac:
birdman007
Podeijeli na Facebook
Podeijeli na Twitter
Podeijeli na MySpace