Dolaze velike promjene!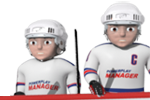 Dragi prijatelji,
u sljedećih nekoliko neđelja i mjeseci, možete gledati prema naprijed što se tiče nekih velikih promjena na PPM. Mi smo doradu neke dugo očekivane karakteristike koje će donijeti novu iskru i uzbuđenje u igri. Tu su novi izazovi i to će biti na vama i vašim menadžerskim vještinama da odlučite kako da se nosite s njima.
Primijetiti ćete prvi od tih promjena prvog dana sponzorskih ponuda u hokeju koje dolaze od sljedeće neđelje. Umjesto jedne ponude, sad ćete dobijati tri svaki dan. Svaka ponuda će biti drugačija i odluka neće biti tako jednostavna kao prije. Vi ćete dobiti jednu ponudu s redovnim neđeljnim plaćanjima kao što imate sada. Tamo će biti i ponuda od sponzora koji će se isplaćivati novčana nagrada svaki put kad pobijediti ligi igra.Treći sponzor će vam dati izbor. Vi ćete biti u mogućnosti odabrati svoj ​​ciljnu poziciju u ligi, a ako to postignete, dobit ćete bonus.
Drugi i treći tip ponude uključivat će neđeljne isplate, kao i, ali one će biti smanjene. To će biti na vama je da utvrdite snagu svoje ekipe i svojih protivnika i odabrati najbolji ugovor za svoju ekipu. Možete dobiti mnogo ako napravite pravi izbor.
Ali, to nije sve. Ako ste saznali da je vaš ugovor s bonusima ne radi za vas, možete ga promijeniti na pola puta kroz sezonu. Možete prebaciti na redovnoj bazi ugovora ili promijeniti svoju ciljnu poziciju.
Možete naći detaljnije informacije o ovom novim karakteristikama u vodiču.
Naravno, možete očekivati isto i u fudbalu i rukometu na kraju ove sezone.
No, to još uvijek nije sve što imamo za vas. Imamo još tri velika updejta u našem rukavu. Možda ste čitali o nacrtu u vijestima prije nekoliko mjeseci.Plan je da se pokrene draft za igrače sljedeće sezone u svakom sportu. Imamo i jednu PRO značajke koje će učiniti postavljanje treninga puno lakše i jednostavnije i jedna promjena u vezi s važnošću utakmice o takvim stvarima kao što je iskustvo, hemija i prisustvovanje utakmica. Više o tome malo kasnije.
Realizovani prijedlozi
Nismo zaboravili ni na male stvari. Primijenili smo još nekoliko vaših prijedloga. Sada možete vidjeti broj dana do kraja radova na vašem tabletu, mobilnom i drugih touchscreen uređajima. Samo dodirnite ikonu u zgradnji za prikaz informacija
Ako koristite sredstva za tržišnu ponudu na igrača ili člana osoblja, to ćete od sada dobiti tim u vijestima s izvještajem o tržišnom agenta nakon isteka roka aukcije. To je učinjeno tako da možete pratiti agenta, čak i ako ne pobijedi na aukciji.
U fudbalu sada možete izbrisati sve zamjene s jednim klikom. To bi moglo biti korisno ako ste skloni postaviti puno zamjene.
To je sve, želim vam prijatan dan!
Autor:

vlady
-
Prevodilac:
BirdisBack
Podeijeli na Facebook
Podeijeli na Twitter
Podeijeli na MySpace