Opcija da se vide ponude sponzora unaprijed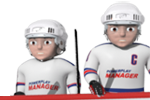 Zdravo drugovi,
još jedna rukometna sezona se zavšava. Kao što ste možda već čuli, ponude generalnog sponzora će biti malo više interesantne ove sezone. Umjesto jedne ponude dobićete 3 ponude svaki dan sa različitim parametrima. Jedna standardna sa fiksnim nedeljnim isplatama, jedna ponuda sa bonusima za svaku pobjedu u ligi i jedna ponuda sa bonusima za postignutu željenu poziciju u toku sezone. O svemu ovome možete pročitati u vodiču.
Ali to nije jedina nova stvar. Takođe vam dajemo opciju da vidite nove ponude sponzora unaprijed. Na primjer, ako vam se ne dopada ni jedna ponuda koju ste dobili, imaćete opciju da vidite ponudu za iduću dan.Ova mogućnost će vas koštati 10 kredita. Može biti veoma korisna ako znate da ne možete biti onajn idućeg dana. Takođe ovu opciju možete koristiti više puta uzastopno dok ne dobijete poslednju ponudu koja će biti prihvaćena automatski. Svaki put kada iskoristite ovu opciju, ponude na stolu će vam se automatski odbijene.
Ova novina se takođe odnosi i za medijske sponzore kao i za VIP mjesta. Cijena je 10 kredita za medijskog sponzorai 3 kredita za VIP lože.
Takođe da naglasimo da smo modifikovali izračunavanje snage tima u rukometu za sledeću sezonu. Moće ćete da primjetite povećanje snage.
Kao što je uobičajno ovaj put u rukometu imaćemo regrupiranje liga u nekoliko zemalja koje će eliminisati neaktivne timove i tako povećati jačinu lige u slabijim ligama. Ova sezone biće regrupranje u sledećim zemljama:
Bosnia and Herzegovina, Chile, Croatia, Czech Republic, Denmark, Estonia, Finland, France, Germany, Greece, Iran, Italy, Lithuania, Norway, Other World, Poland, Romania, Russia, Serbia, Slovakia, Slovenia, Turkey, United Kingdom
Planirane promjene u svim sportovima
Neke promjene će se desiti i u ekonomiji u skorijoj budućnosti. Prije svega planiramo da ukinemo bonus koji sponzori daju u svojim ponudama za perfomanse klubova u internacijonalnim kupovima(liga šampiona i kup pobjednika kupova). Postojaće bonusi za kvalifikovanje za neko takmičenje, ali ne bonusi za perfomanse u ovim takmičenjima. Ova promjena će biti implementirana već od sledeće sezone u svakom sportu koja će učiniti da slabiji timovi lakše uhvate priključak sa vodećim timovima.
Takođe predstavićemo broj radnika kojih mođete imati u jednom odjelku. Ove promjene neće uticati na većinu vas. Maksimalno ćete moći imati 8 članova osoblja po odjelku. Neki menadžeri imaju mnogo više osoblja pomoću koji na marketu ostvaruju profit njihovom prodajom. Ova promjena će vjerovatno biti implementirana od iduće sezone a urukometu od 5'te sezone.
To je sve želim vam prijatan dan!
Autor:

vlady
-
Prevodilac:
BirdisBack
Podeijeli na Facebook
Podeijeli na Twitter
Podeijeli na MySpace