Kako sam izgubio?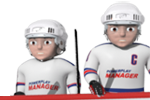 Pozdrav prijatelji,
Zasigurno ste sami sebi već postavili to pitanje. Svima nam je poznat taj osjećaj frustracije kada izgubimo utakmicu za koju smo mislili da je dobijena. Imamo bolji tim nego protivnik i sigurni smo da su naše taktike ispravno podešene. Jesu li? Da li je vaš tim zaista tako dobar kao što mislite? Jeste li sigurni da koristite najbolje taktike? Sada to možete saznati sa našom novom opcijom nazvanom Procjena stručnjaka!
Kao što smo obećali u videu objavljenom na pokretanju košarke, donosimo vam ovu posve novu značajku da vam pokaže koliko je vaš tim zaista dobar.
Kako ova opcija funkcioniše? Prilično je jednostavno. Na dan kada igrate utakmicu, možete dobiti jednu stručnu procjenu kolike su vaše šanse za pobjedu. Ono što se događa je to da će endžin simulirati 100 utakmica protiv vašeg protivnika. Postava i taktike izabrane za tu utakmicu od oba tima koriste se u ovoj simulaciji. Rezultat ove simulacije vam je onda predstavljen kao procjena stručnjaka.
Pazite, jer jednom kada dobijete procjenu, ne možete napraviti nikakve promjene vaše postave ili taktika sve dok se utakmica ne odigra. Sve stranice povezane sa taktikama i postavom biti će zaključane. Za vas koji igrate rukomet ili košarku, to znači da bi mogli blokirati mogućnost postavljanja taktika za utakmice igrane na isti dan prije procjenjene utakmice. Ovo ograničenje se provodi kako bi spriječili korištenje ovog saznanja u stvaranju prednosti nad vašim protivnikom.
Ali to nije sve! Procjena stručnjaka može takođe biti korištena nakon utakmice, ali samo na dan kada je utakmica odigrana. Čini li vam se konačan rezultat čudnim? Jeste li uradili nešto pogrešno ili ste izgubili zbog manjka sreće? To možete otkriti sa procjenom stručnjaka.
Procjena stručnjaka je PLUS paket opcija i cijena joj je 10 kredita. Zbog svoje prirode, uzrokuje značajan teret na serveru i zato ne može biti dostupna besplatno. Ipak, vjerujemo da će mnogima od vas biti korisna.
Opcija da brišete poruke
Nastavljamo iplementirati vaše sugestije. Jedna od onih koja se pojavila je opcija brisanja privatnih poruka iz vašeg sandučića. Od danas, to možete učiniti i urediti svoj sandučić.
To je sve, želim vam ugodan dan!
Autor:

vlady

-
Prevodilac:

Chiraq
Podeijeli na Facebook
Podeijeli na Twitter
Podeijeli na MySpace