Mala poboljšanja i ostale novosti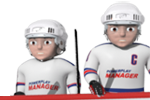 Pozdrav prijatelji,
danas smo implementirali još jednu od vaših sugestija. To je jedno malo poboljšanje, ali sam siguran da će vam biti prilično korisno.
Kao što znate, svaki put kada ponudite za igrača ili člana osoblja na tržištu, taj novac ostaje na vašem računu, ali je blokiran i ne možete ga koristiti. Dosta često su neki korisnici ostali zbunjeni kada nisu mogli graditi objekat ili poslati još jednu ponudu za igrača iako se činilo da imaju dovoljno novca da to učine. Zato smo dodali obavještenje o vašoj dostupnoj količini novca u gornjem desnom uglu đe možete viđeti vaš trenutni iznos novca.
Svaki put kada budete imali nešto novca blokiranog zbog jedne aktivne ponude na tržištu, viđećete drugi broj u zagradi koji će vam pokazivati vašu dostupnu količinu novca. Takođe ako gledate igrača ili člana osoblja koji je na tržištu, viđećete ne vaš trenutni iznos novca, nego vaš dostupni iznos novca. Ovo bi u buduće trebalo otkloniti svu zbunjenost i vas dobro informisati u svakom trenutku.
Novosti iz rukometa
U rukometu nas samo nekoliko dana dijeli do početka pete sezone. Samo bih vas volio podśetiti da će od iduće sezone, broj članova osoblja koje možete imati u svakom od objekata biti ograničen na 8. Ako trenutno zapošljavate više od 8 članova osoblja u bilo kojem objektu, možete ih zadržati, ali ne možete dovesti nove sve dok se broj članova osoblja ne spušti ispod 8.
Kao i obično, održaće se regrupiranje liga u dvije najniže ligaška nivoa u nekoliko država kako bi uklonili neaktivne timove i povećali konkurentnost. Regrupiranje će se održati u sljedećim državama:
Austrija, Belgija, Čile, Danska, Estonija, Francuska, Grčka, Mađarska, Italija, Holandija, Norveška, Poljska, Portugal, Slovačka, Švedska, Turska, Ukrajina, SAD.
Ako izaberete sponzora sa bonusima za pobjedu ili za plasman i budete prebačeni u jaču ligu zbog pregrupisanja, ne morate se brinuti. Na početku nove sezone imaćete opciju da ponovno pregovarate o ugovoru.
To je sve, želim vam prijatan dan!
Autor:

vlady
-
Prevodilac:

Chiraq
Podeijeli na Facebook
Podeijeli na Twitter
Podeijeli na MySpace