New tactical options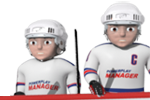 Zdravo drugari,
proslo je vec duze vremena od kako nijesmo napravili neke izmjene u hokeju a u poslednjih nekoliko mjeseci smo dosta puta primili sugestije od vas menadzera kako bi ste voljeli da vidite i neke promjene u hokeju, pa smo odlucili da nesto uradimo po tom pitanju. Pripremili smo gomilu promjena koje ce vam omoguciti vecu kontrolu nad ucinkom vaseg tima u svakum mecu. Evo liste izmjena kojima se mozete radovati vec od pocetka naredne sezone:
Opcija promjene stila igre izmedju perioda u skladu sa rezultatom. A bicete i u mogucnosti da promijenite stil igre u produzecima.
U toku stila igre vas tim ce dobijati hemiju kao sto je dobija i tokom PP ili PK taktike. Sto duze budete igrali odredjeni stil igre vise ce se poboljsavati performanse vaseg tima u tom stilu.
Uticaj takozvane protivtaktike za odredjeni stil igre ce biti smanjen. Za one koji se prisjecaju samih pocetaka, efekat ce sada biti kao na samom pocetku igre. Ova izmjena je napravljena kao protivteza za ranije navedenu hemiju u timu.
Opcija izmjene PP i PK taktike nakon svakog perioda u skaldu sa rezultatom. Including option to change tactics for overtime.
Tri sekcije na strani taktike ce biti objedinjene u jednu stranicu koja ce se odnositi na broj linija u igri. Ovo ce vam omoguciti da zapocnete igru sa 3 linije i angazujete 4tu liniju kasnije tokom meca ili da iete od pocetka meca sa 4 linije, 3 u drugoj trecini a onda opet u zadnjoj sa 4. Bicete u mogucnosti da zamijenite broj linija u produzecima. Opcija reagovanja na protivnicko povlacenje 4te linije ce biti zasebno prikazana.
Sve ove novine zahtijevaju male promjene na stranici. Naravno stranica taktike ce sada izgledati malo grugacije. Izmijenicemo font i stil tako da bude vise gostoljubljiviji.
Takodje bice i nekih izmjena u konacnom ishodu meceva, analizi meceva i statistici kako bi se upodobila novataktika. Nadamo se da ste i vi koliko i mi uzbudjeni i da jedva cekate da vidite ove nove izmjene u igri od narednog ponedjeljka.
Posto slijedi nova sezona bice i pregrupisanja liga u poslednja 2 nivoa liga u nekoliko drzavakako bi smo izbacili neaktivne timove i kako bi smo povecali takmicarski duh. Dobra vijest je sto nakon smanjivanja broja liga nece doci do smanjivanja visine sponzorskih ponuda. Ne zelimo da bilo ko dodje u finansijske probleme zbog regrupisanja liga. Regrupisanje liga ce biti izvedeno u sljedecim drzavama:
Bjelorusija, Belgija, Bosna i Hercegovina, Brazil, Bugarska, Kanada, Hrvatska, Ceska Republika, Estonia, Finska, Njemacka, Madjarska, Italija, Litvania, Holandija, Portugal, Srbija, Slovacka, Spaijn, Turska, SAD, Ostatak svijeta
To je sve, ugodan dan!
Autor:

vlady

-
Prevodilac:

Chiraq
Podeijeli na Facebook
Podeijeli na Twitter
Podeijeli na MySpace