Going forward with the migration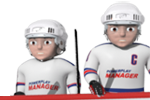 Hi friends,
I have some good news for you today. The migration to multiple servers is almost ready. The programming that was needed to be done before we could go through with this has been done. Now the testing phase will start. All the changes that we have made, we made on the testing server. Our testers will now be given access to this server and their task will be to check if everything is ok and report any errors that they detect. The biggest challenge will be to find even the smallest errors before we move this to the new servers. We expect to finish testing by next week and then copy the new version of the game to the live servers. This will cause the game to go off-line for several hours. Of course, we will keep you informed about the exact time when this will happen.
We have been able to update the name databases in several countries thanks to the help of some of our users. The Latvian names have been modified by manager
slipy
and then
DeeR
, the Italian names by manager
caiocullen
, the Ukrainian names by
drbeaver
, The Irish names by
Emerald
and the brand new Georgian database has been created by
Sintagma
. Thank you.
We would like to ask you for support by voting for us on this page:
To vote, click on "DAJ HLAS!". You can vote once from each IP, so if you have more IPs you can vote multiple times. The top three websites in this competition will get free advertising on one of the most popular radio stations in Slovakia. The voting deadline is January 17. Thank you in advance.
Have a nice day!
Autor:

vlady
-
Prevodilac:

vlady
Podeijeli na Facebook
Podeijeli na Twitter
Podeijeli na MySpace