Moving to new servers tomorrow!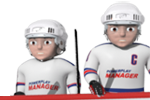 Hello friends,
Tomorrow (January 21) is the big day when our work over the last month or so will come to fruition. All the game files will be copied from the test server and this will result in the game having 2 separate databases on 2 different servers. This will of course mean that we will have to turn off the game for several hours. The expected down time is from 7.00 do 12.00 CET. This may change based on how many complications we encounter during the migration. We would like to ask you for patience even if this will take longer than anticipated. We will do our best, of course, to keep the down time as short as possible.
The migration will not affect your teams in any way. During the first hours afterwards you may experience some problems especially with the universal interface. We will need your help to report any unexpected behavior so that we can fix it as soon as possible. We believe that this move will solve our server issues that we have been having lately and that the game will run smoothly from tomorrow.
In other news we have updated the name databases in the following countries: Romania (updated by
jo27
), Portugal (updated by
Oolong
and
Nascimento
), USA (updated by
Eeoulo
), Bosnia and Herzegovina (updated by
dadnan
and
Thecoldfear
) and Argentina (updated by
ciromanzar
).
The voting on the
http://www.vtipnegrafy.sk/najlepsie
website has been successful and PPM has won by a narrow margin in the end. Our thanks goes to all who have supported us in this.
Finally a call to all Canadian and American sports fans. There is a competition on Facebook for the first nation to reach 100,000 sports fans. The pages are new and small right now. With your help they can grow into great numbers. Become a fan and suggest the page to your friends and let them suggest it to their friends and so on. Here are the links:
Have a nice day!
Autor:

vlady
-
Prevodilac:

vlady
Podeijeli na Facebook
Podeijeli na Twitter
Podeijeli na MySpace