Božićni izazov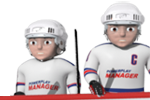 Zdravo narode,

Neka igre počnu! Božićni izazov je pred vama!

O da, sada ćete dobijati jedan kolačić za svaki odigrani instant izazov, bez obzira na to da li pobijedite ili izgubite. Sakupite dovoljno kolačića i možete ih zamijeniti za jednu od 9 nagrada. Na vama je da izaberete koju ćete nagradu uzeti.
Ne znate da igrate instant izazove? Samo kliknite Igraj sada dugme na vrhu ekrana kada ste na stranici svojeg tima. Ne samo da možete zaraditi kolačiće, već se možete takmičiti i u dnevnim i neđeljnjim izazovima kao i inače.

Prodavnica za razmjenu kolačića će biti otvorena sve do 6. januara 2017. u 16 časova CEV. Pobrinite se da igrate svaki dan i osvojite koliko god možete nagrada.

Ali to nije sve! Od sada do 25. decembra u 20:00 časova po CEV možete ostvariti nevjerovatnih 60% bonusa na kupovinu kredita!

Košarkaške vijesti:

Pošto se bližimo novoj sezoni u košarci, treba da objavimo i spisak država u kojima će se održati pregrupisavanje liga na kraju ove sezone, a to su:

Austrija, Bjelorusija, Venecuela, Grčka, Iran, Kina, Litvanija, Njemačka, Ostatak Svijeta, Slovenija, Ujedinjeno Kraljevstvo Velike Britanije i Śeverne Irske, Ukrajina, Finska, Holandija, Češka Republika, Španija.

Srećan Božić svima!
Autor:

vlady

-
Prevodilac:

Chiraq
Podeijeli na Facebook
Podeijeli na Twitter
Podeijeli na MySpace