Live broadcast is here!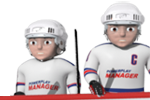 Hi friends,

As we said before, today we are starting Live broadcast for all your matches. We hope that you will enjoy them. Start will be during this day, we still do not know the exact time. If you see that button PPM TV in your hockey team menu is not grey anymore then it is ready for your use. Please do not forget that this broadcast is still in its first testing phase and there are lots of things that will be changed or modified. We know, that there are still some mistakes, but lots of our testers were happy with it, so we decided to make it accessible for everyone even in this imperfect form. You will be able to watch your match at 6pm your time and it will last approximately 30 minutes. It is still not possible to speed-up the telerecord after the live broadcast, it will be enabled in the future. Moreover, problems with sound can occur in some browser or operation systems. Some hockey actions in your language might not be perfect, please report mistakes to your country captains and translators. Report only grammar or stylistic mistakes. Do NOT report missing names or doubled names. Whole PPM TV section will go through lots of changes.
Good news for all PPM friends is, that we have now more than 100 000 registered managers. We would like to to thank to all people who were helping us for last 2 years. This is also your success.
Also our facebook community (www.facebook.com) is still growing and if you want to join us, please go to: http://www.facebook.com/group.php?gid=2345238254. We will be very happy if this community will contribute to spreading of the good PPM name between people.
And here are the last few changes.
In players profile under the player's picture, we added his position in actual line-up for next match.
During the shootout there were always wrong players in home team - corrected.
Seasonal energy was not correctly changing in friendly games - corrected.
We unified displaying attributes and qualities in players and employers screen.

Have a nice day
Ivan alias tuttle
Autor:

tuttle
-
Prevodilac:

tuttle
Podeijeli na Facebook
Podeijeli na Twitter
Podeijeli na MySpace