The last season in beta version of hockey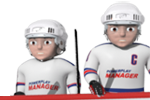 Hello friends,
The final season in the beta version of hockey has started and I would like to share with you some important info. I will write in points.
1. The season will be played out until the end. Only after it ends will the game be restarted with the creation of national leagues. So far we can open 35 countries, the last country up to this point is Estonia. The rest of the countries will have their own leagues opened only if the number of hockey teams grows to the required number in the next 3 weeks.
2. It is quite possible that we will open national leagues for some countries during the last season for testing purposes. These will however only be played by the newly registered managers. This means that for all of you nothing changes and we will only be testing the system.
3. During the next few weeks we will also deactivate everybody's PRO features temporarily. This is to test the system of payments and activation of packages. Of course they will be again activated shortly. The mass deactivation will then happen during the restart after which everybody will be able to activate the package manually.
4. Within the next 14 days we will implement the option to charge credits to your accounts. It will not be possible to spend them yet, but immediately after the start of the full version it will be possible to activate the PRO pack for these credits. We hope that our fans will charge their credits to help us ease the financial pressures. In any case, I will keep you informed about the possibilities of payments.
5. A number of teams got into financial troubles in recent weeks. The reason is obvious - the staff salaries have raised and a lot of managers had too many of them and they did not react to the increase of their salaries. This will not happen in the full version. The salaries will rise gradually and each manager will be able to judge how many staff members will he or she be able to pay. It is not possible to have 24 staff members in a tier 5 league. To prevent clubs from going bankrupt, we have temporarily introduced the rule that no fees are paid for dismissing a staff member. Therefore you can sack the some staff members to reduce your daily running costs.
Important:
Due to serious complications during the seasonal calculation some games of the first game day have not been scheduled at all and some have been calculated wrongly. We had to erase the part that has been played and start the season anew. We apologize for the inconvenience.
Have a nice day
Ivan alias tuttle
Autor:

vlady
-
Prevodilac:

vlady
Podeijeli na Facebook
Podeijeli na Twitter
Podeijeli na MySpace