PRO Zone opened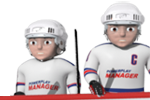 Hello friends,
As I have mentioned, the PRO Zone has been opened this morning. What does PRO Zone offer to you? All of you will now be able to buy credits for your manager accounts. These credits can then be used to activate PRO pack and to use some other credit features. The PRO pack and credit features will not be possible to activate for a few more days. This is because we do not want you to spend your credits before the restart. Besides, all of you can use the PRO pack features at the moment. This will be deactivated after the restart and everybody who has bought credits will then de able to use them. The restart is planned between April 6 and 9, so only a few days from now.
We would like to thank everyone who has bought or will buy credits and activate the PRO pack, as this money will help us develop other sports. The next sport (soccer) could reach the beta phase by the end of the year in case we have sufficient funds. Currently our situation is difficult but we believe that you will support us and everything will get better.
If you experience any troubles with payments please contacts us at finance@powerplaymanager.com. Keep in mind that some payment methods are processed several days. Therefore it is not necessary to contact us immediately. If you find any errors in the PRO Zone, you can report them on this mentioned e-mail address. Most frequent problems occur when paying by a credit card. In oder to finalize the payment you have to click the button that will redirect you back to our pages. You will see a message that you are leaving the secure bank zone, which is normal, because you are returning to PowerPlay Manager. If an error message appears during payment, the problem has not been caused by any error on PowerPlay Manager. In such case it is necessary to try and enter the data again or contact your bank because some banks first have to activate your internet payments.
Thank you for your support.
Ivan alias tuttle on behalf of the whole PowerPlay Manager team
Autor:

vlady
-
Prevodilac:

vlady
Podeijeli na Facebook
Podeijeli na Twitter
Podeijeli na MySpace