Season 5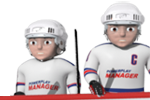 Hi friends,

welcome to season 5. These are busy days at PPM office. We have got our hands full with everything related to the start of the new season. Unfortunately, yesterday didn't go without complications. As I have mentioned last week, we have moved the promotions, relegations and season scheduling to Sunday. This in itself was a complicated operation and there were some unforeseen consequences.
The seasonal update is a very delicate thing and if you move one part of it to another day, you have to be aware of everything that is connected to that part. That's not as easy as it sounds and as some of you have noticed, there was something that we didn't foresee.
The fact that we have moved promotions and relegations to Sunday caused a little bit of a mess with the sponsorship deals which were sent on Sunday. These offers that were sent have already taken into account the new league of a promoted or relegated team. That means that if someone won the second tier league, he got an offer as if he had won the top league. Of course we had to fix that. We have sent a new set of deals which were correct this time around. Needless to say we got tons of angry messages from the managers who were promoted to a higher league. Their new offers were much worse and they were thinking they were robbed of a few millions, which wasn't the case.
This way we would like to apologize for the confusion, but at the same time we would like to assure everyone that the second Sunday offer was the right one.
That's all, good luck in the new season!
Autor:

vlady
-
Prevodilac:

vlady
Podeijeli na Facebook
Podeijeli na Twitter
Podeijeli na MySpace