An easier way to manage your lineups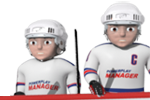 Hello everyone,
I have more good news for you. You may have noticed a new feature on the lineup page. At the bottom there is an option to load a lineup from one of the previous games that your team has played in the last 7 days. This way you can easily reproduce the lineup that you like to use for league games and lineup that you like to use for friendly games without rebuilding it every day. We know that many of you, who don't have the PRO pack, have complained about the boring lineup management. Now this is much easier with this new feature. One thing that you should remember is that the lineup is loaded without the captain and his alternates and without the shootout players. You have to set that manually. Another important thing is that the lineup is loaded as it played in that game with scratches in the same positions as they played in the given game.
Another new feature is the possibility to copy an existing lineup. If you have more lineups and you want to create a similar lineup to the one you already have, you can copy it with a click of mouse button. Then you can simply modify the details that you want to change. You can copy your default lineup into the A or B lineup and make the necessary changes. This may reduce your time spent on lineup management.
I hope you will like our new features and that the game will again become more enjoyable to play.
One more thing. There are 2 new and important rules:
If a player or a staff member is sold on the market for a price that highly exceeds the regular market price of similar players and staff members, the gamemaster can compensate this by deducting part of the selling price from the account of the seller. This compensation is not considered a punishment and it can be done even if the seller is not responsible for the excessive price. The judgement whether the price is too high is up to an individual decision of the gamemaster.

If more than one person is playing PowerPlay Manager in one household, they cannot buy or trade their players and/or staff members under any circumstances. It is also not recommended to play too many friendly games against each other as that may lead to a suspicion of multiplaying.

Have a nice day.
Vlady
Autor:

vlady
-
Prevodilac:

vlady
Podeijeli na Facebook
Podeijeli na Twitter
Podeijeli na MySpace