Sponsored tournaments for special prizes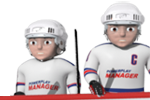 Hi friends,
The development team is currently working hard on the new design of welcome pages and these are very busy times in the office. Despite all the hurry we have managed to set up a few attractive credit tournaments for you.
The biggest ones are
Pension Tyrol World Elite Open
and
Pension Tyrol World B-Open
. The first one is for teams with OTR over 200 and instead of credits you may win accommodation in
Pension Tyrol
in the Alps or gift items such as PPM T-shirts and caps. You can read all the details in tournament profile. The possible dates of accommodation are in the months of May, June, September and October in 2011. The second tournament is identical to the first one but it is only for teams with OTR 200 or lower.
But that's not all. We have
Official PPM Elite Cup
and
Official PPM Newbie Cup
with a donation of 500 credits from PPM in each of the two tournaments. Once again the first one is for teams with OTR over 200 and the second one for team with OTR 200 or lower. The entry fee is
only 2 credits
and non-PRO users will be preferred in both tournaments when accepting applications.
Then we have 2 tournaments where the winner wins a game for Playstation 3.
Army of Two Tournament
is open for all applicants and the winner will receive a PS3 game
Army of Two
in addition to the credits.
Polish Dragon Age Cup
is reserved for Polish users only. The top prize is another PS3 game
Dragon Age: Poczatek
in Polish plus, of course, the credits.
Finally, we would like to thank manager
kvasnice
for improving the Czech database of names.
That's all, see you at the tournaments!
Autor:

vlady
-
Prevodilac:

vlady
Podeijeli na Facebook
Podeijeli na Twitter
Podeijeli na MySpace