Interview with Peter Stastny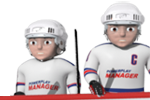 Mr. Stastny, first of all I would like to thank you for becoming the Godfather of hockey on PowerPlay Manager. Please tell us where did you hear about this project and what is your opinion about it.

I first heard about PowerPlay Manager in hockey community and I like the fact that it is a Slovak project. Similar hockey projects are very popular in the United States and I am happy that also this Slovak one has a lot of fans.

Games that allow people to become managers of their own teams have been spreading fast over the internet in recent years. Do you have any experience with this kind of games?

Of course, as I have mentioned, it is very popular these days and I have heard a lot about various similar projects.

You come from a hockey family. Your line with brothers Anton and Marian used to spread fear among the opponents in NHL. Currently, your sons Yan and Paul skate in the same league. How is it possible that there is so much hockey talent in your family?

It has to be a gift from God, our talent, but it also takes a lot of sacrifice, hard work and love for the sport. As a parent, I am happy that my children have also found a job that pleases them, a job that they enjoy and that they have results.

Your sons live on a different continent. How often do you meet them? Do your job duties make it possible to attend the games of your sons in person?

I travel to USA regularly to be with my family and from time to time I am able to visit their games. If they are particularly important, then me and my wife will be there. We see Janko more often because he plays in St. Louis Blues.

What were the reasons for the lack of success of the Slovak hockey team at the World Championships?

First of all it is the management. Not only the presence of Mr. Siroky but in this case also the professional management. A substantial part of the responsibility falls on the head coach. He definitely didn't handle his role as was the case on several occasions in the past.

Apart from success on the ice you have also succeeded in politics when you have been elected into the European Parliament. What was the reason for you to start a political career? What is your role in the European Parliament? Have the expectations, which you had before you have been elected into this position, been fulfilled?

That is quite a lot of questions but I will try to answer them one by one. I got involved in politics because I had a feeling of responsibility, a desire to contribute to the better future for youth and next generations. It was also a chance to do something meaningful. Meaningfulness brings me pleasure and therefore I am satisfied with my work. I try to represent Slovakia as best I can in the European Parliament but at the same time I try to advocate democratic values. I am the Leader of the Slovak delegation of the European People's Party and I work in the Committee on International Trade and Committee on Budgets. I am also a member of the Delegation for relations with the United States, Delegation to the Euro-Latin American Parliamentary Assembly and Delegation for relations with Israel. And the expectations? I am satisfied a long way beyond the expectations that I had five years ago.

What are your plans and goals for the near future?

We would like to be successful with our SDKÚ-DS team and I personally would like to continue as the leader of the Slovak delegation. The nearest goal is to be successful in the EP elections where I worked as a leader. I would like to continue in my work and ask all hockey fans for their votes.

You used to work as the General Manager of the Slovak national hockey team. You have even won the World Championships in this role in 2002. Would you like to give some advice to the managers playing on PowerPlay Manager?

The goal of any manager, whether real or virtual, is to create such a selection of players that the end result is a quality team full of synergy and not just a bunch of exceptionally talented individuals.
Autor:

vlady
-
Prevodilac:

vlady
Podeijeli na Facebook
Podeijeli na Twitter
Podeijeli na MySpace