Results of the WC host selection process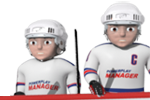 Hello friends,

We would like to announce the hosts of this season's PPM Ice Hockey World Championships. We have received 2 bids in the Top Division and 1 bid in Division I. You can read brief overview of all the bids here. The selection committee consisted of tuttle, maxo, Gioel, Mike22, maTTko, Vrato, Frusciante and myself. Before I announce the results, we would like to thank everyone who was involved in these bids. You have done a great job and we appreciate your efforts.

And here the results:
Top Division:
1. Slovakia - 595 points
2. Czech Republic - 205 points

Division I
1. France - 800 points

Division II
No bids. Portugal has been chosen as the host.

Congratulations to Slovakia and France. May the tournaments be a success!
Autor:

vlady
-
Prevodilac:

vlady
Podeijeli na Facebook
Podeijeli na Twitter
Podeijeli na MySpace