Special awards for you!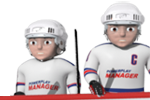 Hi friends,
as we had promised a couple of weeks ago, we have prepared a set of special awards for your profile for various activities or contributions. Two weeks ago, we rewarded users who have subscribed for at least 1000 days of PRO pack in one sport. Last week, we handed out new awards.
You can find an overview of all these awards here. Of course you can get these awards at any time if you achieve the required goals. Apart from a long term subscription for PRO pack, you can also get an award for referrals, for the credit tournaments that you have organized, for creating pucks, for completing the world collection and that's not all. More awards are coming very soon. We are also preparing new statistics with the best managers in each of these categories.
You can check how much you need in order to achieve the next award on the progress bar below the awards. Move your mouse over the progress bar to see exactly where you stand.
For every award that you get, you also get a certain amount of points. This number is displayed below the award in the overview. The best managers according to these points are then ranked in the Top managers section.
We are thankful to everyone who has won any of these awards because it means that they support and care about the game. All awards are the work of our graphic artist dilong.
Today we have also returned the information about the last five logins into the manager profile after a brief period when it was disabled due to optimization.
Have a nice day!
Autor:

vlady
-
Prevodilac:

vlady
Podeijeli na Facebook
Podeijeli na Twitter
Podeijeli na MySpace