Latest news from PPM office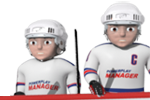 Hello friends,
I have a whole bunch of news for you today. I will start with an announcement that PPM is heading towards a new era. On the night from April 29 to 30, PPM will change their webhosting provider and the game will migrate to new servers. This will mean that the game will be unavaiable during this migration. This will likely take several hours. We will be working overnight to make sure everything goes as smoothly as possible and we will do our best to make the game operational as quickly as possible. We will specify the extact time of the migration later. We are confident that this move will make our game more stable.
Yesterday we have launched a
World Ice Hockey Championship prediction pool
. We have donated 300 credits into the prize pool which will be divided between the top 10 predictors. Sign up for free and try your luck. You can start posting your predictions 7 days before the start of the Championship.
We would like to invite you to join our
official facebook page
. Here you can get wind of some interesting inside news sooner than you can read them here. For example you can find there pictures of some of the first merchandise items that we plan to offer to you in our fanshop which will hopefully be launched in the coming weeks. You can also join your national facebook groups. You can find the list of all PPM pages and groups on facebook
here
.
You may have noticed that if you buy a player from the market who is not scouted, your scouts will make a new estimate of that player's qualities. If you see something like this, do not be alarmed. The qualities of the player did not change, only the estimates did.
I would also like to remind you that you now have less than 2 months to take advantage of our long term referral promo campaign. You can get up to 10 credits for each active manager that you invite to the game. For more information
click here
.
There is also another way you can help promote the game in your neighborhood. You can download and print
flyers
. We have added a couple of new ones. The flyers are translated into several languages. If your country does not have a national team in hockey or doesn't look like it will get one in soccer, you can help your case by distributing these flyers.
That's all for now, have a nice day!
Autor:

vlady
-
Prevodilac:

vlady
Podeijeli na Facebook
Podeijeli na Twitter
Podeijeli na MySpace