Changes in promotion bonuses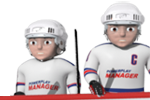 Hi friends,
last week we imformed you about the changes regarding motivation of teams to promote and avoid relegation. After reading your reactions we decided to introduce some changes while there is still time. Some of you expressed their concerns that the mentioned changes were not enough of a motivation, while others claimed that it would greatly damage the teams that would be relegated despite their will to stay in the league. From your reactions we targeted 2 major issues that we wanted to address with these changes
we didn't want to destroy the teams that are not relegated by choice

we didn't want this season's playoffs in hockey to become a farce with everybody waiting with promotion for the next season
We asked our friend Robin Archer to help us with his ideas on the issue of motivating teams to promote to higher leagues. Some of the changes mentioned below were inspired by his suggestions.
This list supercedes the previous list mentioned last week which is now no longer valid:
bigger difference in attendances based on league level (teams from lower league will have a bit less attendance than now)
better attendance to teams on lower positions in the rankings (smaller differences between teams in the same league)
team that is promoted will have OTR reduced by 15% at the end of the season (instead of 30%)
there will be prize money awarded to the team that is promoted (the amount will equal 3 times the amount for winning the league playoffs in hockey and 1.5 times the amount for winning the league in soccer)
These changes will be implemented in both hockey and soccer this season. Last week we announced that the changes in hockey will come into effect from season 8. As I mentioned above, we wanted to avoid a situation where managers would want to wait with promotion until the next season. Besides, the fact that we are going to make changes regarding promotion were announced right at the beginning of this season in hockey which is well in advance. Even though the details were not known back then, the message was clear enough. The playoffs are just about to start, so there is still time for everyone to adjust their strategies based on this announcement.
We would like to thank everybody who sent in their proposal for a script for a 30 second promotion clip. We appreciate your efforts. One of the managers who reacted to this announcement is a proffesional in advertising branch for the Protos Productions agency. We have decided to turn to this company with the task to create and producte the clip.
Today we have copied the private message history on the new servers. This history was archived before the migration. If you are still experiencing problems when connecting to PPM, please contact your internet providers and inform them about this. They should be able to solve this problem.
Don't forget that from June 1, the new prices come into effect. You have only 13 days left to buy credits for the current price.
The Ice Hockey World Championship ice surface competition was closed on Monday. The award for most ice surface paintings goes to Slovakia and the award for most paintings per hockey team goes to Norway. Thank you for participating and supporting your favorite teams.
Have a nice day!
Autor:

vlady
-
Prevodilac:

vlady
Podeijeli na Facebook
Podeijeli na Twitter
Podeijeli na MySpace