PPM World Championship hosts selected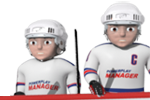 Hello friends,

The time has come to announce the hosts of the PPM Ice Hockey World Championships in season 7. The championships start on June 4 and the final game is scheduled for June 12. We have received 2 bids in the Top Division, but no bids in the lower divisions. You can read more about both bids in PP Magazine. The selection committee consisted of tuttle, maxo, Gioel, Mike22, maTTko, Vrato, Frusciante, Mysho, DevilQoOo and myself. We would like to thank everyone who was involved in these bids. We appreciate your efforts.

Top Division:
1. Czech Republic - 644 points
2. Slovakia - 356 points

Division I
No bids. Spain has been chosen as the host.

Division II
No bids. Argentina has been chosen as the host.

If there are volunteers from Spain and Argentina who would like to create an original logo, a mascot and pick 4 best arenas where the tournaments would be played, please contact me. If there are none, we will create some default logos and pick the largest arenas in each country. The deadline is May 31.
We wish the Czech organizers good luck and hope that everything goes according to plan.
Have a nice day!
PS: Don't forget that from June 1, the new prices come into effect. You have only 8 days left to buy credits for the current price.
Autor:

vlady
-
Prevodilac:

vlady
Podeijeli na Facebook
Podeijeli na Twitter
Podeijeli na MySpace