Handball is next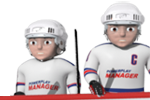 Dear friends,
Handball is going to be the next sport that will be launched here at PowerPlay Manager. You may have read this on Facebook shortly after it was announced at the official PPM meeting in Brno, Czech Republic, last Friday. The meeting itself saw a record number of 63 managers turn up.
We do realize that this may come as a bit of a surprise to you. We have been pondering long and hard about the future direction of the game and what would be best for the game. There are several reasons why we have chosen this sport.
It is a sport that we feel like we understand the most from the ones that are yet to be developed.

Handball shares many of the same features as hockey and soccer because it is a team sport. Therefore its development will be faster than it would be if we decided for tennis or formula for instance. The speed is still essential for us as we try to keep the game alive and prosperous.
Handball is popular in countries which have the most active managers here on PPM.
Now I am sure you want to ask when you'll be able to play handball. The slightly optimistic estimate is, that we could launch the beta version of the game early next year. Of course, this will depend on many other factors and this doesn't mean that the development of hockey and soccer will stop. We still have that huge challenge of improving the soccer engine.
The Brno meeting not only saw this historic announcement, but also the handing of the trophy (video here) to the Ice Hockey World Champion - opox. Congratulations to him, his assistant manager and the whole Czech community on their third gold in the last 4 seasons. It is truly a remarkable achievement.
Only a day later, there was another meeting in Ljubljana, Slovenia, which featured 2 out of 3 PPM founders (tuttle and maxo), programmer Mysho and myself. I will bring you more details about this meeting in the magazine. It was a truly an action packed weekend.
Finally an announcement for those going on a vacation. We are planning to launch a new PRO feature that will allow to assign one deputy manager who will be able to manage your team in your absence. This will soon reach the testing phase and then we will make it available for you.
That's all, have a nice day!
Autor:

vlady
-
Prevodilac:

vlady
Podeijeli na Facebook
Podeijeli na Twitter
Podeijeli na MySpace