Great Referral Campaign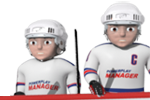 Dear friends,
I have some really good news for you. As of today, you can start earning yourselves a really nice amount of credits and at the same time enter a competition for Nintendo Wii and PPM merchandise. All you have to do, is to use your referral link and spread the word about the game.
Invite your friends, put your referral link on your facebook account or twitter or website and reap rewards for your efforts. For every sport in which your referral reaches 11 manager experience, you get 15 credits instead of 3 that you were getting until now. That means that every referral can bring you up to 30 credits and that's not counting the bonuses you get when the referral buys credits. But that's not all.
By inviting new managers you enter the competition for 2 Nintendo Wii consoles, 1 PPM polo shirt with your nickname and 10 PPM T-shirts. To have a chance to win, you must collect at least 20 points. How do you do that? You get 1 point every time one of your referrals reaches 11 points of experience in any sport. That means you can get up to 2 points per referral. Everyone with at least 20 points joins the lottery for Nintento Wii and 10 T-shirts. The other Nintendo Wii will go the the manager who collects the most points and the polo shirt to the manager who collects the most referrals with verified e-mail address.
The campaign ends on October 31, but the prizes will be awared in the second half on November so that we can give a chance to reach the required experience to those who have registered just before the deadline. You can read all the rules and details here. Of course anyone who attempts to cheat, will be punished.
Good hunting!
Autor:

vlady

-
Prevodilac:

vlady

Podeijeli na Facebook
Podeijeli na Twitter
Podeijeli na MySpace