What is the direction of PowerPlay Manager?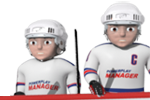 Dear managers,
Recently we have launched a lot of credit features for which we have also taken a lot of heat. Especially from PRO pack users. We were accused of money-milking, greed and what-not. Also many of you have expressed your concerns that it will become possible to buy your way to winning.
Therefore we would like to clear up these recent moves and the direction of this project in the future. We invest every extra euro that this project makes back into the game. We are not building any condos or buying luxury yachts. Our staff is growing in order to provide more professional services and quicker development. Just recently we have hired our chief gamemaster lubosko who is now working with us in the office. He will not only help us with rule enforcement, but also with theoretical development and other things to be specified later. A lot of money is being invested into complete redesign of the website to make your browsing easier and more enjoyable.
We are most definitely not planning to go in the direction that would give the paying users any real advantage in the game. The recently added features, do not guarantee any extra income in the game, nor do they give players the possibility to train faster. Some might consider them border-line, but that's as far as we plan to go.
But the main reason why I am typing these lines is, to let you know that your voices are not ignored and we have several good news mostly for PRO pack owners, but also for others. Those who play this game for free should realize that without the PRO pack owners, this game would not survive. Therefore we are planning to move some credit features into the PRO pack, while the price of the PRO pack will remain the same. They will be moved gradually, one by one.
The option to watch broadcast from any game - all PRO pack owners will have free access to any live broadcast within that sport. Right now this is a credit feature and watching a game costs 1 credit.

Search suitable opponents to enlarge world collection - this feature used to find opponents to get the puck or pennant for your world collection will become part of the PRO pack. One usage costs 2 credits and this price will remain the same for non-PRO users.

Search suitable opponents to enlarge collector's gallery - another feature to enlarge your collection of pucks or pennants. One usage costs 3 credits, but PRO pack owners will have this for free.
Market scout feature - PRO pack owners will be allowed to use this feature for free once per season

Market agent feature - PRO pack owners will be allowed to use this feature for free once per season
We are also planning to give something extra for the non-PRO users. They will have the possibility to watch away games of their teams for free. This is something that a lot of you have requested. Even though this move represents a certain financial loss for us, we hope that these managers will repay us by supporting us at least by referring the game to others. That way they can also earn some credits and win great prizes in our Great Referral Campaign.
Please note that these changes are not effective immediately, but we require some time for preparation and implementation. We will inform you every time one of these changes are applied.
We have revealed to you our plans for the future and reasoning behind recent changes. As you can see we are doing our best to keep you satisfied and we hope that you appreciate that and that you will keep supporting us so that we can continue doing so.
Thank you and enjoy your weekend!
Autor:

vlady
-
Prevodilac:

vlady
Podeijeli na Facebook
Podeijeli na Twitter
Podeijeli na MySpace