Let the buying fever begin!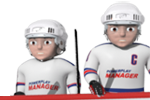 Dear managers,
Fan Shop is finally here! It wasn't easy, there have been many complications and setbacks and a lot of time and energy spent on our part to finally give you the chance to buy original PowerPlay Manager apparel and merchandise.
What can you buy there? Just follow this link and see for yourselves. Many of the products are customizable. When ordering polo-shirts, T-shirts or caps, you can enter your nickname or whatever text you want to give the product a unique look. For polo-shirts and caps you can also choose a flag of your country. The magnets are available in more than 20 different languages. Then there are two brand new products which have not been announced before - a jacket and a sports bag.
The manufacturing and handling of the products is provided by the samolepky.sk e-shop.
In football, you can now vote for or against the current national team managers. You can change your opinion at any time until the end of this week.
There is, however, one more challenge for these managers this season. During the final week of the season, there will be a tournament called PPM Football Challenge Cup. This tournament will be held every other season when there is no World Cup, European Cup or Intercontinental Cup. It will be divided into divisions of 16 teams based on the world ranking. The last 2 teams will not be eligible to play in this tournament. The schedule of the tournament will be published later this week.
Despite the fact that this tournament clashes with the League Cup, players will be allowed to play both in the League Cup and for their national team on the same day. Their perfomance will not be affected by this because the national team energy is independent from the club energy.
Good Shopping!
Autor:

vlady
-
Prevodilac:

vlady
Podeijeli na Facebook
Podeijeli na Twitter
Podeijeli na MySpace