Happy New Year 2012!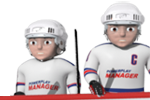 Dear friends,
we would like to wish you all a Happy New Year! We wish you health, success, a lot of love, happiness and good luck in your personal lives and some good luck in the PPM world too! May the new year be better, or at least as good as the old one.
We will do our best to bring you a lot of new features and hopefully a brand new sport to play in 2012!
Happy New Year to all!
Autor:

vlady
-
Prevodilac:

vlady
Podeijeli na Facebook
Podeijeli na Twitter
Podeijeli na MySpace