A bunch of small improvements and season bonuses in football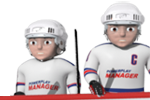 Hi friends,
in recent days we have been able to incorporate some of your suggestions from the forums and some other small improvements which we have been planning to do for quite some time.
Statistics of former players
Until now, you have only been able to view statistics of your current players even if you looked at stats from previous seasons or the all time stats. We have now included all the statistics of players that have ever played for your club. If you like statistics, you will love this change.
Tactics and lineup in read-only mode
As you know, you cannot change your tactics and lineup during the game calculation. These pages have been locked for this reason. However, now you can view these pages in read-only mode to see what your settings are.
New filter option on the market
An option to filter players/staff on the market according to days remaining on their contract has been added. This will help you avoid players or staff members who are before a big raise in salary or before free agency/retirement.
Season bonuses in football

The option to give season bonuses to players in football has been added. This option allows you to pick 3 players every season that you plan to keep when they hit the free agent market. Depending on the number of these bonuses, the players will then give you discounts on their signing bonus. You can give bonuses retroactively for previous seasons to players who were on your team at that time. As of next season, you will no longer be able to give retroactive bonuses. You can read more details about season bonuses and free agency in the guide under Contracts and Market.
Tactics page in hockey
The tactics page in hockey has just received a facelift. We have added some small graphics to represent various tactical options.
That's all for today. We hope you like the changes. Have a nice weekend!
Autor:

vlady
-
Prevodilac:

vlady
Podeijeli na Facebook
Podeijeli na Twitter
Podeijeli na MySpace