The next set of fixes and improvements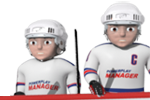 Hello friends,
we would like to inform you about further fixes and improvements

What has been done in the last few days:
new teams will enter already running leagues. Until now they were assigned to new leagues, where all the games were played in the following calculation.

added: when sending a player to the market or after selling him, the transfer fee is displayed

added: a green dot is displayed next to the teams that are currently online

added: if you are in the TOP 500 according to the overall team rating, your team and rank will be displayed under the top 10

added: new and improved version of the TOP section, which has begun to be too much of a load for the server and it was loading slowly. We accelerated it about 100 times, so you don't have to worry that the section will be cancelled.

added: new version of the Online section divided into several pages and first your country is displayed. You can also promptly send mail to the users who are online or view their calendar.

added: 22 new team sponsors and 3 new TV corporations

added: it is possible to assign different tactics and lineups to individual games.

added: table "Fewest losses in a league" added to TOP teams

added: images to 4 types of staff members

added: new and more up-to-date version of the guide

added: new version of league statistics, where you can now sort by columns, switch between leagues and pro and standard pages. Note that the page is not fully functional and not all columns can be sorted by

modified: players without selected pracitce are displayed at the top of the practice page, so you will be able to easily spot players without practice

fixed: the letters 'o' (overtime) and 's' (shootout) were not displaying in the calendar and the results page

fixed: the inactivity time which was only half an hour in the hockey account. Now you don't have to worry about getting logged out after a while of inactivity.

fixed: double display of the sum when placing the player on the market

fixed: a bug which sometimes caused that it looked like you were in your team even though you were in the public account team.

fixed: after a long investigation and debugging we managed to fix a bug, which caused that in about every 10 thousandth game two goals in the same second were scored betwen 48th and 49th minute of the game

What are we planning for the next few days:
fix: we had a game which didn't end after a goal was scored in the overtime

fix: withdrawing of the 4th line and goalie change does not work correctly

add: an info that the manager has a hockey team would be displayed in his/her profile

fix: if a goalie plays in the overtime the 5 extra minutes are not displayed in the statistics

fix: sometimes the league progress does not work in the standings

add: a restriction that would make it impossible to dismiss players when their number is only 17
Tip for today:
Don't forget to set your lineup with care. It is very important what positions the players play at. A bad lineup may cause that you lose a game that you should win and a good lineup can win you a game against a stronger opponent.
Regards
Gioel
Autor:

Gioel
-
Prevodilac:

Gioel
Podeijeli na Facebook
Podeijeli na Twitter
Podeijeli na MySpace