Sneak peek at the new hockey live feed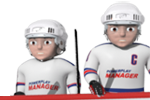 Hi friends,
it's been a while since the last news, but that doesn't mean that we've been idle. We have been working hard on the new design and the hockey pages are almost done now. We are already working on the football design as well. We firmly believe the new design will be ready for launch in May.
But that is not the only major project we've been working on. We are also preparing a brand new version of live broadcast in hockey which will give you a whole new perspective and it will bring the entertainment level up a few notches. Click here to see the first sample.
The development of this new live broadcast is very slow and demanding, however. Originally we were hoping to launch it along with the new design, but these plans now seem unrealistic and it may take more time. We will keep you updated if anything changes in this regard. Even after the launch of the new live feed, you should be able to watch the games in the old style with play-by-play commentary.
We have created an option for national team managers to change logo and jerseys of their national team for a fee of 10 credits. If you think your national team needs a change, you may contact the manager and ask him to upload new jerseys or logo.
That's all for now, have a nice day!
Autor:

vlady
-
Prevodilac:

vlady
Podeijeli na Facebook
Podeijeli na Twitter
Podeijeli na MySpace