More info on changes in economy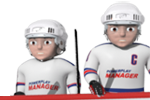 Dear managers,
last week we announced a set of changes in economy which spawned a lot of reactions, questions and comments from you. We would like to respond to some of these questions and comments in this news. In fact, we have made some adjustments to a couple of the announced changes based on your comments which we would also like to present here.
In point 3 we have informed you that the OTR bonus for promoting to a higher league will be reduced. Instead of a 15% reduction of OTR in case of promotion, your OTR will be reduced by 20% at the beginning of next season. This bonus will be applied only if you have not played in the league level where you have just been promoted. We have announced that the starting point for this purpose will be your league level from this season. However, as some of you correctly noted, this change was announced too late into the season and therefore we have decided to make your league level from next season as your starting point. That means that even if you are relegated this season, you will still be entitled to this bonus if you are promoted back.
In point 5 we have informed you that the sponsors will take into account if you decide to throw key games of the season (read last week's news for more details on which games are identified as key games). A lot of questions arose about this point. I would like to reply to the most relevant ones here.
What if my top players get injured or suspended and my team strength drops significantly due to that?
We will set the benchmark so that injuries to top players will not be enough to drop below this benchmark. We recommend, however, that you have at least one serviceable backup goalie in hockey. As you know the backup goalie influences your goaltending strength in hockey. Until now it was possible to play games without a backup goalie, but that will no longer be allowed in order to make goaltending strength more stable. After all, hockey rules do not allow teams to come into the game without a backup goalie. If you fail to select a backup goalie, a random lineup will be generated for you.
What if I decide to save energy for later rounds by playing with very low importance because my opponent is weak?
Importance will not be taken into account by sponsors.
What if I attempt to throw a game, but win?
A win will be considered as a good game by the sponsors no matter the strength of the squad that achieved it.
What if I have my best players in a training camp during key games?
Planning training camps is part of your job as manager of the club. If you send your best players to the camp when your team plays key games, it is a bad managerial decision and the sponsors will take that into account.
What if I play the whole season on high importance and my energy drops so much that my team strength will be compromised at the end of the season during key games?
The decrease of energy is a gradual process and you cannot lose that much energy at once. Average team strength will be calculated based on most recent games and the ones from the beginning of the season will not count.
What if I decide to throw away game 2 so that I can maximize my revenues by playing game 3 at home?
Such risky tactics will not be appreciated by the sponsors.
How will I know if sponsors liked my effort in key games or not?
We will consider sending team news after every key game in which you fall below the required team strength. Something like a warning from the sponsors.
Once again we would like to say that all of these changes are aimed at making the game better and more competitive. We would also like to note that the changes were prompted by your observations and comments and not because we decided in our office it's time to turn everything upside down and upset the users with more changes. We are doing this to support the sportsmanship and weed out unsportsmanlike machinations and schemes which most of us don't like to see. After all, this is a sporting game.
I would also like to remind you, that you can still take advantage of discounts of up to 30% on PRO packs in soccer. The discounts expire on July 2 at 2pm CET.
Have a nice day!
Autor:

vlady
-
Prevodilac:

vlady
Podeijeli na Facebook
Podeijeli na Twitter
Podeijeli na MySpace