Some details about handball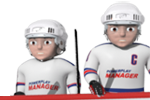 Dear friends,
I am sure many of you are waiting impatiently for the next sport which will be handball. I would like to use this opportunity to share with you some details about handball and what changes we plan to implement in comparison with hockey and soccer.
I will start by explaining the league system. Every league in handball will have 14 teams and every league will have 3 leagues below where teams from that league will be relegated. Every team in regular season will play 52 games (4 times with each opponent). There will be 4 league game days every week to accomodate the busier schedule.
At the end of regular season the top 8 teams will qualify for the playoffs, while the bottom 6 teams will continue playing in another round robin tournament. The last three teams from that tournament will be relegated directly, while the top three teams will play in the relegation round.
The credit tournaments will be played in a special time zone. That means that your team will be able to play 2 games a day. Tournament games will not have any effect on energy, chemistry, experience or popularity. The tournaments will be purely about prestige and the thrill of playing in a separate competition for credits. It will be possible to play a tournament game every day.
I think that's enough information for now, but I will surely post more later on. I am sure you are wondering about the release date, but I still cannot give you any dates yet. We still have a few months of work ahead of us. The programmers have been working on market and national cup most recently.
Now for some news from hockey and soccer. We have implemented a system in credit tournaments that will automatically forfeit all games which cannot be played due to the fact that one or both teams are playing in international cup on the same day. In case both teams are unable to play, the game is forfeited in favor of the home team.
In hockey we have added the option to set groups manually to tournament founders. In soccer this option has always been available.
Over the last couple of weeks we have also made a number of fixes and updates to the new hockey live broadcast. I believe the most serious bugs were fixed, but there are still some issues we have to work on and some suggestions which we would like to implement.
That's all for now, have a nice day!
מחבר:

vlady
-
מתרגם:

vlady
שתף בפייסבוק
שתף בטוויטר
שתף במיי-ספייס