Thanks to our most loyal supporters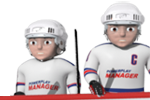 Hello friends,
we have decided to reward our biggest supporters with credits and a special award which will appear in their manager profiles. Every manager who has subscribed for PRO pack for 1,000 or more days has been given an award and 50 credits. This way we would like to thank you for your loyalty and support. We appreciate it very much and this game survives mainly thanks to your support.


Soon you will be able to get other awards thanks to your activities. We are preparing an overview of trophies and awards as well as rankings of the most successful award collectors. All awards including the one mentioned above were created by our graphic artist dilong.
Have a nice day!
Penulis:

vlady
-
Penterjemah:

vlady
Kongsi di Facebook
Kongsi di Twitter
Kongsi di MySpace