New Season Starts On Monday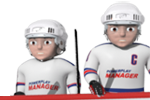 Hi folks,
we are just a few days away from the start of season 46. You probably know what to do. Make sure you log in tomorrow to check new sponsor offers. And don't forget that the World Championships are going on right now and you can watch all the games live for free.
As usual, we will have league regrouping in selected countries to remove inactive teams from the bottom two league levels. League regrouping will take place in the following countries:
Canada, Czech Republic, Croatia, Hungary, Portugal
If you sign a sponsorship contract with bonuses and you happen to be moved to a different league during league regrouping, please don't be alarmed. You will have the option to renegotiate your contract during the first 2 days of the new season so that you can make the right choice. Check your new opponents before you make a decision.
That's all, good luck everyone!
Forfatter:

vlady
-
Oversetter:

vlady
Del på Facebook
Del på Twitter
Del på MySpace