Win 150 credits!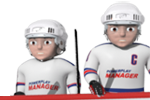 Dear managers and hockey fans,
the Ice Hockey World Championships in Prague and Ostrava are starting tomorrow. We are very excited and that's why we have prepared a competition for you where you can win 3x150 credits.
Just send a link to your favorite hockey anthem or song on our Facebook page under the competition post. It doesn't matter if the song is old or new, but it has to be related to hockey.
A week from now, on May 7, we will randomly pick 3 winners of 150 credits each from those who have contributed their favorite hockey song on our Facebook page.
Not to be left behind, here is our favorite hockey song.
We are looking forward to your contributions!
作者:

vlady
-
翻譯者:

vlady
在Facebook分享
在Twitter分享
在Google+分享
在MySpace分享