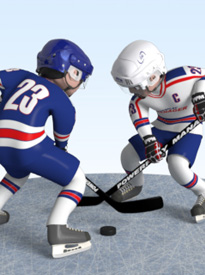 Official PPM page on Facebook

Give a Like to our Facebook page and get the latest news before everyone else.
Next game
Team noname 131863
League game
2.10.2023 18:00
In this screen you can see all the information about the next game including the line-up and the tactics to be used. Do not forget that the line-up displayed here will be used during the game. It is possible, however, that in case of an injury or a transfer this screen will be changed before the game is played! The injured players will be replaced or if you have not created your lines, the line-up will be generated automatically.
Game
Your time: 2.10.2023 18:00
Playing at: Home
Game type: League game (Game day 7)
Line-up: Default line-up
Tactics: Default tactics
Tactics
Game importance: Normal
Style of play: Active forechecking
Time on ice: 34-33-33
Power plays: Shooting from the point
Penalty killing: Diamond
Pull the goalie: Yes
Goaltenders
| | | | | | | | | | | | | | |
| --- | --- | --- | --- | --- | --- | --- | --- | --- | --- | --- | --- | --- | --- |
| Pos | Player name | Age | PrS | Goa | Def | Off | Sho | Pas | Tec | Agr | Exp | Ene | Che |
| G1 | Stanislav Haluška | 30 | L | 61 | 14 | 16 | 14 | 21 | 19 | 12 | 68 | 98/98 | 99 |
| G2 | Hugo Malota | 34 | L | 51 | 10 | 13 | 13 | 25 | 22 | 12 | 26 | 100/100 | 86 |
Line 1
Line 2
| | | | | | | | | | | | | | |
| --- | --- | --- | --- | --- | --- | --- | --- | --- | --- | --- | --- | --- | --- |
| Pos | Player name | Age | PrS | Goa | Def | Off | Sho | Pas | Tec | Agr | Exp | Ene | Che |
| LW | Martin Fašang | 31 | U | 8 | 12 | 58 | 19 | 19 | 20 | 21 | 95 | 97/97 | 99 |
| C | Pavol Cimra | 28 | L | 11 | 14 | 58 | 15 | 16 | 22 | 18 | 67 | 97/97 | 89 |
| RW | Ľubomír Skantar | 31 | R | 9 | 14 | 47 | 17 | 24 | 18 | 21 | 53 | 97/97 | 96 |
| LD | Erik Majdiš | 20 | L | 11 | 33 | 12 | 21 | 18 | 12 | 21 | 4 | 97/97 | 64 |
| RD | Adam Mnich | 32 | U | 9 | 25 | 13 | 15 | 12 | 11 | 18 | 4 | 97/97 | 40 |
Line 3
| | | | | | | | | | | | | | |
| --- | --- | --- | --- | --- | --- | --- | --- | --- | --- | --- | --- | --- | --- |
| Pos | Player name | Age | PrS | Goa | Def | Off | Sho | Pas | Tec | Agr | Exp | Ene | Che |
| LW | Ivan Rinkovský | 25 | U | 11 | 14 | 95 | 22 | 16 | 21 | 22 | 87 | 97/97 | 99 |
| C | Anton Jurásek | 21 | R | 9 | 20 | 105 | 23 | 26 | 26 | 23 | 50 | 97/97 | 99 |
| RW | Benjamín Mokri | 30 | R | 10 | 31 | 15 | 22 | 24 | 12 | 19 | 6 | 97/97 | 67 |
| LD | Lukáš Fíšan | 29 | U | 11 | 83 | 15 | 23 | 24 | 16 | 18 | 92 | 97/97 | 99 |
| RD | Demeter Miťko | 21 | L | 9 | 87 | 14 | 17 | 19 | 14 | 20 | 52 | 97/97 | 99 |
Line 4
| | | | | | | | | | | | | | |
| --- | --- | --- | --- | --- | --- | --- | --- | --- | --- | --- | --- | --- | --- |
| Pos | Player name | Age | PrS | Goa | Def | Off | Sho | Pas | Tec | Agr | Exp | Ene | Che |
| LW | Jozef Laktiš | 27 | L | 8 | 16 | 87 | 19 | 18 | 17 | 18 | 51 | 99/99 | 91 |
| C | Andrej Hossa | 22 | L | 9 | 11 | 89 | 22 | 16 | 23 | 22 | 45 | 99/99 | 92 |
| RW | Juraj Gaššo | 22 | R | 9 | 13 | 71 | 23 | 27 | 18 | 19 | 48 | 99/99 | 91 |
| LD | Frederik Gašperan | 29 | U | 9 | 65 | 12 | 17 | 17 | 10 | 26 | 47 | 99/99 | 92 |
| RD | Branislav Felix | 28 | R | 11 | 58 | 14 | 19 | 17 | 10 | 17 | 70 | 99/99 | 90 |
Power play line 1
Power play line 2
| | | | | | | | | | | | | | |
| --- | --- | --- | --- | --- | --- | --- | --- | --- | --- | --- | --- | --- | --- |
| Pos | Player name | Age | PrS | Goa | Def | Off | Sho | Pas | Tec | Agr | Exp | Ene | Che |
| LW | Martin Fašang | 31 | U | 8 | 12 | 58 | 19 | 19 | 20 | 21 | 95 | 97/97 | 99 |
| C | Pavol Cimra | 28 | L | 11 | 14 | 58 | 15 | 16 | 22 | 18 | 67 | 97/97 | 89 |
| RW | Ľubomír Skantar | 31 | R | 9 | 14 | 47 | 17 | 24 | 18 | 21 | 53 | 97/97 | 96 |
| LD | Erik Majdiš | 20 | L | 11 | 33 | 12 | 21 | 18 | 12 | 21 | 4 | 97/97 | 64 |
| RD | Adam Mnich | 32 | U | 9 | 25 | 13 | 15 | 12 | 11 | 18 | 4 | 97/97 | 40 |
Penalty killing line 1
| | | | | | | | | | | | | | |
| --- | --- | --- | --- | --- | --- | --- | --- | --- | --- | --- | --- | --- | --- |
| Pos | Player name | Age | PrS | Goa | Def | Off | Sho | Pas | Tec | Agr | Exp | Ene | Che |
| C | Prokop Fendek | 33 | L | 11 | 12 | 41 | 23 | 15 | 23 | 23 | 51 | 97/97 | 83 |
| RW | Alojz Janák | 20 | L | 12 | 15 | 31 | 21 | 18 | 25 | 20 | 1 | 98/98 | 17 |
| LD | Edmund Marcinko | 18 | L | 9 | 38 | 13 | 16 | 18 | 13 | 17 | 13 | 97/97 | 81 |
| RD | Adrián Hromas | 20 | R | 8 | 35 | 11 | 15 | 20 | 13 | 23 | 35 | 98/98 | 53 |
Penalty killing line 2
| | | | | | | | | | | | | | |
| --- | --- | --- | --- | --- | --- | --- | --- | --- | --- | --- | --- | --- | --- |
| Pos | Player name | Age | PrS | Goa | Def | Off | Sho | Pas | Tec | Agr | Exp | Ene | Che |
| C | Pavol Cimra | 28 | L | 11 | 14 | 58 | 15 | 16 | 22 | 18 | 67 | 97/97 | 89 |
| RW | Ľubomír Skantar | 31 | R | 9 | 14 | 47 | 17 | 24 | 18 | 21 | 53 | 97/97 | 96 |
| LD | Erik Majdiš | 20 | L | 11 | 33 | 12 | 21 | 18 | 12 | 21 | 4 | 97/97 | 64 |
| RD | Adam Mnich | 32 | U | 9 | 25 | 13 | 15 | 12 | 11 | 18 | 4 | 97/97 | 40 |
Shootout players
| | | | | | | | | | | | | | |
| --- | --- | --- | --- | --- | --- | --- | --- | --- | --- | --- | --- | --- | --- |
| Pos | Player name | Age | PrS | Goa | Def | Off | Sho | Pas | Tec | Agr | Exp | Ene | Che |
| 1 | Prokop Fendek | 33 | L | 11 | 12 | 41 | 23 | 15 | 23 | 23 | 51 | 97/97 | 83 |
| 2 | Alojz Janák | 20 | L | 12 | 15 | 31 | 21 | 18 | 25 | 20 | 1 | 98/98 | 17 |
| 3 | Alexander Sarvaš | 30 | R | 10 | 15 | 67 | 22 | 29 | 24 | 22 | 52 | 97/97 | 92 |