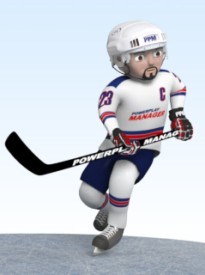 Get free credits!

Invite new managers to the game and get up to 12 credits for one referral!
Next game
Frei team†
League game
23.6.2021 18:00
Main logo
This feature is part of the PRO pack!
&nbsp
---

The option to create a team logo
A team without a logo is hard to imagine. PRO pack owners on PowerPlay Manager can create and upload their own team logo. This logo is then displayed in the calendar of all the opponents and is a great promotion for every team.
The option to upload your own team logo is a part of the PRO pack. Logo is a trademark of every team and it is often viewed by other managers. It is displayed in the team profile, in game summary, during live broadcast and also in every team calendar. It is convenient to have the big logo on a white background so that it looks better in team profile.
| | |
| --- | --- |
| | Upload a new logo: |
Small logo
The smaller version of the team logo appears everywhere except the team profile. The small logo must be transparent so that it looks good on pink, blue or grey background. If you don't know how to create this kind of a logo you can use our special automated tool. If you don't like a logo created this way, you can upload it manually. The small logo must be very similar to the big logo. None of the logos can have an obscene or disturbing appearance and administrators have the right to delete these kinds of logos.
| | |
| --- | --- |
| | Upload a new logo: |