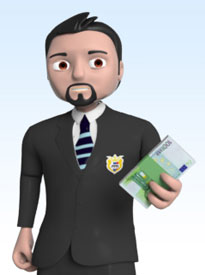 Official PPM page on Facebook

Give a Like to our Facebook page and get the latest news before everyone else.
Next game
HC Dukla Dohňany
League game
8.3.2021 18:00
If you plan to build up the arena or buy players but the financial situation is not the best, you can borrow money from the bank. You have to be careful when borrowing because the bank loans money with interest which has to be repaid as well. You can only have one loan at a time! Installments are paid in seven day intervals. If you took out the loan on Monday, your installments will also be paid on Mondays.


Your manager experience: 3537
| | | | | | | |
| --- | --- | --- | --- | --- | --- | --- |
| Loan | Maximum | Large | Medium | Small | Tiny | Micro |
| Required manager experience | 601 | 301 | 101 | 51 | 11 | 11 |
| Loan amount | 3,790,000 | 3,032,000 | 2,274,000 | 1,516,000 | 758,000 | 379,000 |
| Interest rate | 26% | 22% | 18% | 14% | 10% | 8% |
| Weekly installment | 238,770 | 231,190 | 223,610 | 216,030 | 208,450 | 204,660 |
| Number of weekly installments | | | | | | |
| Total to be repaid | 4,775,400 | 3,699,040 | 2,683,320 | 1,728,240 | 833,800 | 409,320 |
| | | | | | | |