Handball beta to be launched on Monday!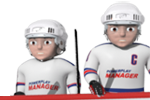 Dear friends,
we are proud to announce that on Monday, May 13, the beta version of Handball, the third sport on PowerPlay Manager will be launched. You may have already heard rumours about it, but now it is official. We will probably launch it early in the afternoon (CET).
For the first 5 days of beta, you will only be able to create a team for 30 credits. After that, beta will be available for free. You will be able to create a team from the Home page, from the Sports page or by clicking a link on the top bar when it becomes available.
Our PPM team members are already testing the game and we are working on removing the biggest issues. Of course, some parts of the game will not yet be available in beta. For example we will probably disable all feature of the PLUS pack and also image uploading. PRO packs will be free for everyone in beta version.
We are still working on tuning up the engine and there are some issues with player statistics that we need to solve, but all of this will be fixed soon by our programmers.
We would like to thank all of you for staying with us. We know it has been a long wait and we appreciate your patience. We are happy that all that hard work that our whole development team and marketing team has put in will now come to fruition.
Have a nice weekend!
Συντάκτης:

vlady
-
Μεταφραστής:

vlady
Μοιραστείτε στο Facebook
Μοιραστείτε στο Twitter
Μοιραστείτε στο MySpace