New season brings some changes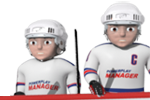 Dear managers,
The eighth season is heading towards the end and again we have prepared for you some engine improvements and various other changes.
The engine improvements will be only minor ones. For example we have reduced the amount of goals in games where one team is completely outclassed by the other team. I am referring to games where the goal differences are exceeding the 25-30 goal mark. This has been done to avoid some really wild scores. Even though these scores were not unrealistic, they were taking away from the fun of the game when some manager was in a league full of inactive teams. We have also slightly increased the influence of importance by influencing the goalie performance. Some other minor improvements are planned.
We are working on separating the energy of players in the national team. This is a measure to avoid situations where player owners are being forced to save energy of the national team players. It also gives the national team managers complete control over the energy of the players they select for the national team.
This week you can post your bids for the national team managers. We are working on the option to advertise these bids via the advertising system. Since last week you have the ability to advertise teams.
As we had announced earlier, there will be regrouping of the last two league levels in each country. First the regular promotions and relegations will take place. Then the teams from the lowest league level will be ordered according to their OTR and then they will be inserted into the empty spots in the league level above. If there are not enough empty slots, the teams that didn't make the cut, will remain in the bottom league level, but they will be grouped together in the smallest possible number of leagues. The empty leagues will then be locked until it is necessary to open them. It is also possible that there will not be enough teams to fill all the empty slots in the second lowest league level. In that case the teams in the second lowest league level will also be grouped together.
There might be a maintenance break in hockey because of the regrouping on Sunday morning. We will inform you about the details.
Have a nice day!
Συντάκτης:

vlady
-
Μεταφραστής:

vlady
Μοιραστείτε στο Facebook
Μοιραστείτε στο Twitter
Μοιραστείτε στο MySpace