New design tomorrow!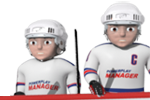 Hi friends,
tomorrow is the day when we implement the new design of the welcome pages. The new design is a vast improvement on the current one and we think it will be a much better presentation of our website. Due to this change the game will be turned off from about 9.00 am CET. We cannot predict right now how long the game will be unavailable but we will do our best to make it as short as possible. The market deadlines will be postponed of course.
Another important announcement is that we have added 2 new rules:
It is forbidden to publish results of games on forums or chat before they are over
This rule has been introduced due to certain individuals who have found a way to find out the results of games before the live broadcast ends and some of them have been publishing these results and thus spoiling the broadcast for regular users. This kind of action may be punished from now on.

It is forbidden to send mails advertising players or staff members for sale
This has been forbidden before as it was always considered as spam. However, we decided to make it more explicit so that it is clear to everybody. We have been receiving too many complaints about such mails lately.
As has been announced earlier, we are going to make some improvements in hockey. There will be some changes in the game engine as well as new tactical options. I will not tell you everything yet, but I can tell you that we are planning to improve the shootout (so that it works exactly as in real life), faceoffs and we also want to give you the option to change goalies if the goalie allows a number of goals that you set or if his save percentage drops below the level that you decide.
And that is just the beginning. There is more stuff that we have been sitting on for some time, but couldn't slot it into our schedule.
Have a nice day!
Συντάκτης:

vlady
-
Μεταφραστής:

vlady
Μοιραστείτε στο Facebook
Μοιραστείτε στο Twitter
Μοιραστείτε στο MySpace