New ice surface competition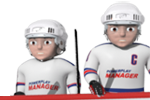 Hi friends,
I would like to announce the start of new competition involving ice surfaces. The World Cup in soccer is drawing closer and you have the opportunity to show your support for your favorite team at this tournament. All 32 countries are represented. You can find the surfaces here:
Special thanks goes to manager
mira
for creating all these paintings.
The country with the most supporters and the country with most supporters per hockey team will get a special plaque into their profile in hockey, just like it was with Vancouver 2010, when the winners were Slovakia and Switzerland:
The competition ends on July 11.
We will also add a special ice surface of the Ice Hockey World Champions - Czech Republic - in the near future.
The deadline for sending bids to host the PPM Ice Hockey World Championships has expired on May 23. We have received a total of 4 bids. We will send our comments to the candidates and they will have some time to change their bids so that they conform with the requirements.
We would like to thank manager
jehki
, who has improved the Finnish name database.
Finally, we regret to announce that the company, which was handling the wire transfer payments from Czech Republic, Hungary and Poland has had some troubles and the users in these countries will have to use the regular wire transfer instead. Unfortunately, this event has caused some financial loss for PowerPlay Manager. Some of the money from managers using the wire transfer in these countries has never reached us. Despite these problems the credits have been awarded to the users.
Have a nice day!
Συντάκτης:

vlady
-
Μεταφραστής:

vlady
Μοιραστείτε στο Facebook
Μοιραστείτε στο Twitter
Μοιραστείτε στο MySpace