Win prizes in tournaments worth €3000!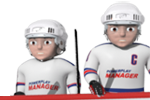 Hello friends,
have you ever wanted to buy an NHL jersey with your name or with the name of your favorite player, but it was too expensive for you? Imagine if you could buy a Sidney Crosby or Alex Ovechkin jersey virtually for free. This is your chance.
We have prepared several tournaments in co-operation with our partner called Fansmania which is selling officially licensed NHL merchandise. You can win discounts of up to 100 Euros on any product within the shop. Just for illustration, a Sidney Crosby Winter Classic jersey costs 98 Euros.
Pick one of the tournaments to sign up. Please check the manager experience required for each tournament and sign up for the correct one.
The entry fee is 20 credits and these tournaments are open to all managers outside Slovakia and Czech Republic. They begin on February 25, but you should sign up now to make sure you lock the dates in your calendar. Here is the rundown of prizes which is the same in each of the tournaments:
Rank 1: Discount of €100 in Fansmania shop
Rank 2: Discount of €80 in Fansmania shop
Rank 3: Discount of €60 in Fansmania shop
Rank 4: Discount of €40 in Fansmania shop
Rank 5-8: Discount of €25 in Fansmania shop
Rank 9-16: 50 credits
Rank 17-32: 20 credits
If you are not interested in NHL, the discounts also apply to NBA, MLB, NFL or MMA merchandise. So don't hesitate and book your place now! Good luck!
Συντάκτης:

vlady
-
Μεταφραστής:

vlady
Μοιραστείτε στο Facebook
Μοιραστείτε στο Twitter
Μοιραστείτε στο MySpace