PowerPlay Manager successfully moved to a new server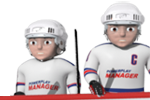 Hi friends,
We have a very tough weekend behind us but the good news is, that we managed to successfully move to the new server in Great Britain. As a result we have a better server now, which has much better parameters than the previous one and we believe, that we still have something in reserve regarding the current number of online managers. We shall see how this influences the live broadcast but we are very optimistic. There were also some complications caused by the move, which meant that a lot of managers could not log into their accounts but everything should be fine by now.
What else is new? Today we are launching a system of revoking teams of managers who have not been active for 21 real days. Teams like these will have a cross next to their name and at the end of the regular season they will be moved to the bottom of the standings /if they play in the relegation round they will be automatically relegated/. These teams will be relegated until they get to the 5th division where they will be replaced by a new team of a new manager. The original team will end in PowerPlay Manager but it will remain in the all-time standings. In the near future, the revoking of team will also be implemented when the team has been in negative numbers of account balance for over 21 days.
Last saturday also marked the first official meeting of PowerPlay Manager in Bratislava, which was attended by 13 people. The meeting had international character with people also from the Czech Republic and the atmosphere was great. We will bring you report of the meeting along with the photos soon.
The last thing is related to the whole PowerPlay Manager. From this Saturday, that is October 25, the first official world-wide advertising campaign for PowerPlay Manager will start. The aim is to get as many managers in one week as possible. The campaign ends on Sunday, November 2. Why is this done? The project currently has quite high running costs with only a marginal income from the context ads. To survive, we need to somehow solve the project funding. Having no income from the managers for PRO features, we are trying to sell advertising space in the game to companies. So far not with a lot of success. To achieve this, we need to have more playing managers. Then we will become more attractive to the companies. If you too would like to contribute to running of the PowerPlay Manager, you can join in the campaign individually and try to find some managers for us.
Thank you
Ivan alias tuttle
Συντάκτης:

tuttle

-
Μεταφραστής:

vlady
Μοιραστείτε στο Facebook
Μοιραστείτε στο Twitter
Μοιραστείτε στο MySpace