New engine debut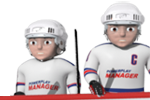 Hi friends,
the live debut of the new game engine is now history. It was a really busy day at the office not only because of the new engine, but also because of the start of the RFA market and the beginning of the new season.
We are happy to report that all the games were calculated without any major problems. The time it took to calculate all games was well within the norm. The new tactical options are operational.
The only minor thing that has gone wrong is the display of game importance by period in the game summary. It shows the importance at the beginning of the game rather than importance used in the period. Let me assure you that the problem is only in the game summary and that your settings have been taken into account in the actual game calculation.
Thank you for understanding and good luck in the season!
Συντάκτης:

vlady
-
Μεταφραστής:

vlady
Μοιραστείτε στο Facebook
Μοιραστείτε στο Twitter
Μοιραστείτε στο MySpace