Happy 2011!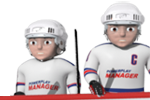 Dear managers,
2010 is drawing to its conclusion and the new year is almost upon us. For PowerPlay Manager, this has been a year that will be remembered as the year when soccer was launched. We hope, that with your support, the game will continue to grow and improve in 2011.
We would also like to remind you, that the Christmas dicounts event is slowly but surely drawing to an end as well. You have time only until January 3, 10:00am CET to take advantage of one of these discounts:
Combo hockey + soccer for 12 months - 50% discount on one sport, you save 160 credits
Any sport for 12 months - 10% discount, you save 32 credits
Any sport for 6 months - 10% discount, you save 18 credits, 36 credits on combo
Any sport for 3 months - 10% discount, you save 10 credits, 20 credits on combo
You can activate or prolong your PRO pack here. If you don't have credits, you buy them here. Don't miss it!
Happy and successful new year to you all!
Συντάκτης:

vlady
-
Μεταφραστής:

vlady
Μοιραστείτε στο Facebook
Μοιραστείτε στο Twitter
Μοιραστείτε στο MySpace