Update on server issues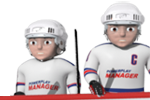 Hi friends,
yesterday we had once again serious problems with extremely high load on the servers. This problem has been reoccurring since the last news and we are still in the process of diagnosing it. It is a real mystery to us because there seems to be no logical reason behind this behavior. Yesterday was probably the worst case so far. Please accept our apologies for yesterday's down time. The good news is that we have implemented an automated system which automatically moves the deadlines on the market when the game is inaccessible.
Once again we are going to make a number of changes and restrictions which will help ease the load and prevent this problem in the future. We will once again temporarily move the statistical update to a later time. Most probably to 20.00 CET. We are also thinking of moving the sponsor pay day to Tuesday. We would like you to know that solving this problem in the long run is one of our top priorities at the moment.
The new server will be finally installed on Monday. The delivery was delayed by a week. We have already ordered another one to create some sort of a buffer for the future too. It is in our best interest to increase the gaming comfort. We believe that this is a good investment for the future.
In other news, the Belarusian name database was improved by managers
Jura
,
artems39
and
ValdeZzz
. Thank you for your help.
Once again, we apologize for the inconvenience and we are doing our best to solve these problems. Thank you for understanding.
Have a nice day!
Συντάκτης:

vlady
-
Μεταφραστής:

vlady
Μοιραστείτε στο Facebook
Μοιραστείτε στο Twitter
Μοιραστείτε στο MySpace