Plans for the next season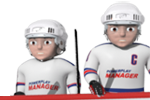 Hello friends,
I have plenty of news to report today. As you know, the season is slowly but surely drawing to a close. There are just two more weeks left and we are planning some changes which will be applied as of next season. The most important of these changes concerns the users in Turkey and those who play in Other World leagues. Due to the large number of inactive teams we are going to reorganize the league structure in these two "countries". We will remove the inactive teams and also a number of leagues and compress the teams that are active into a much smaller number of leagues. This will reduce the number of games played against teams without manager.
Also from next season (and this concerns everybody), the teams without manager will recover their current energy in the same way as normal teams. That means that the results of games with these teams will be more realistic and they will not distort the statistics to such an extent as it is now.
We will also change the way teams are assigned to new managers. We will try to fill the leagues one by one under the new system, so that all new teams will be able to start from roughly the same starting position as other teams in that league. That should make for a better competition and it should make the game more interesting for the new managers. The new managers will also inherit the sponsorship deal and overall team rating of the team without manager and this will make their starting position better than it is now.
Now to other news. You may have noticed that there is a yellow icon in the forums with an exclamation mark. Please use this icon to report any posts that are against the forum rules. I am sure our moderators would appreciate your help. As ever, use this feature with care and do not report unless you have a good reason for it. Unreasonable reporting is equally as bad as breaking the forum rules themselves and may lead to a ban.
We have implemented a new option when creating a credit tournament. You can now request a partial refund of organization fee which will be deducted from the overall prize pool of the tournament. For details, see the Create tournament page.
Finally I would like to announce that we have added new ice surface paintings with the theme of the games in Vancouver. Support your country by painting your ice with the national ice surface. The country with most paintings used will get an award into its profile as well as the country with most paintings per user. The awards will be given out at the end of the games in Vancouver. We will be adding more countries later on. You can find the paintings here:
That's all for today. Have a nice day
Συντάκτης:

vlady
-
Μεταφραστής:

vlady
Μοιραστείτε στο Facebook
Μοιραστείτε στο Twitter
Μοιραστείτε στο MySpace