Official Statement on Russian Invasion of Ukraine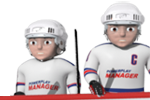 Dear friends,
normally we do not comment on real world events, but the current situation demands that we make an exception.
Unfortunately peace in Europe has been disrupted by an unprovoked attack of Russia on Ukraine. We at PowerPlay Studio strongly condemn this aggression and we stand firmly on the side of Ukrainian people who are bravely defending their homeland.
Some of you have requested that we ban all Russian users from the game and thus join the rest of the western world in sanctions against Russia. We do not believe that our Russian users should be punished for the crimes of their government, whether they support the current regime or not. Everyone is entitled to their own opinion.
We will, however, ban anyone who expresses support for the Russian invasion or spreads misinformation and propaganda within the game in any way.
Thank you for understanding!

Penulis:

vlady
-
Penterjemah:

vlady
Kongsi di Facebook
Kongsi di Twitter
Kongsi di MySpace