Hall of Fame sudah tiba!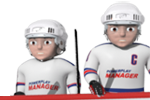 Hello kawan,
Satu ciri baru yang hebat sudah tiba hari ini - Hall of Fame! Jika anda ada pemain dalam pasukan anda, yang layak mendapat tempat istimewa, ini satu ciri khas untuk perkara ini. Anda boleh menghormati penjaring gol terhebat sepanjang masa anda, atau pemain paling berrnilai dalam pasukan anda, atau mungkin pemain yang telah menjaringkan gol kemenangan dalam akhir liga anda, atau sesiapa anda rasa layak untuk mendapat tempat dalam Hall of Fame kelab anda.
Bila anda menambah pemain, maklumat dalam pamerannya akan menjadi seperti gambar foto dari masa bila pemain itu ditambah ke Hall of Fame. Statistik, atribut , pencapaiannya akan tetap sama, bila anda menambahnya. Jika dia pemain aktif dalam kelab anda, anda boleh mengusirnya dan menambahnya lagi untuk update maklumat dalam pamerannya. Anda hanya boleh menambah pemain yang masih dalam kelab anda.
Anda juga boleh menaip beberapa maklumat tentang pemain dalam pamerannya di mana setiap orang boleh baca. Anda boleh pilih sama ada anda mahu menunjukkan atribut dan kualitinya. Anda boleh hanya untuk menunjukkan atribut dan bukan kualiti. Terpulang kepada anda untuk memutuskan. Hall of Fame adalah ciri kredit dan menambahkan satu pemain berharga 5 kredit. Utnuk menambah pemain, buka profilnya dan klik pilihan Tambah ke hall of fame di sebelah kanan skrin.
Ingat bahawa anda masih boleh menukar nama pasukan anda dan jimat 33% sehingga Selasa, 15:00 CET. Ciri ini ada dalam tetapan pasukan.
Jumaat lalu kami telah menukar pengiraan tafsiran kualiti untuk membuang bug yang telah dilaporkan (pengguna dengan kecekapan siasatan yang bagus boleh melihat kualiti tepat pemain yang belum disiasat). Anda mungkin tahu perubahan ini. Namun, penyimpangan maksimum dari kualiti betul telah ditukar bersamanya. Bermula Isnin, kami akan menukar penyimpangan maksimum kembali ke tahap sama sebulu Jumaat lalu, tetapi kali ini tanpa bug tersebut.
Nikmati hujung minggu yang indah!
Penulis:

vlady
-
Penterjemah:
romafali
Kongsi di Facebook
Kongsi di Twitter
Share on Google+
Kongsi di MySpace